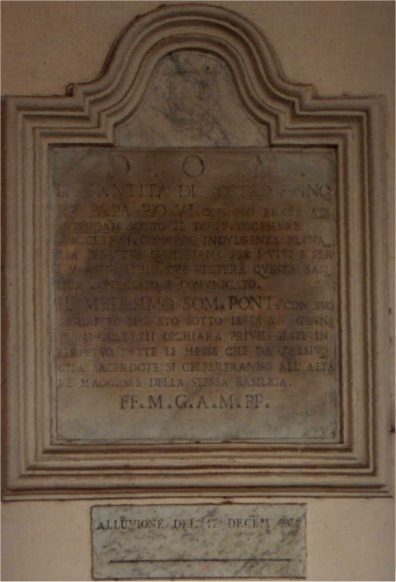 The marble plaque, located under the S.Bartolomeo church porch on the left of the church inlet, quotes the text of the full indulgences granted by Pope Pio VI on December 4th 1781 to everybody who will visit the Basilica being in God Grace status and, on January 19th 1782, the extension to every priest of the privilege to annul the Purgatory punishments that earlier was granted (1581 - see the plaque on the other side of the porch) to S.Bartolomeo priests only.

This is the inscription text:

D. O. M.
LA SANTITA' DI NOSTRO SIGNO_
RE PAPA PIO VI CON SUO BREVE AD
AUGENDAM SOTTOIL DI IV DICEMBRE
MDCCLXXXI. CONCEDE INDULGENZA PLENA_
RIA PERPETUA QUOTIDIANA PER I VIVI E PER
I MORTI A CHIUNQUE VISITERA' QUESTA BASI_
LICA CONFESSATO. E COMUNICATO
IL MEDESIMO SOM. PONT. CON SUO
RESCRITTO SEGNATO SOTTO IL DI XIX GENNA_
JO MDCCLXXXII DICHIARA PRIVILEGIANTE IN
PERPETUO TUTTE LE MESSE. CHE DA QUALSIVO_
GLIA SACERDOTE SI CELEBRERANNO ALL'ALTA_
RE MAGGIORE DELLA STESSA BASILICA.
FF.M.G.A.M.PP.