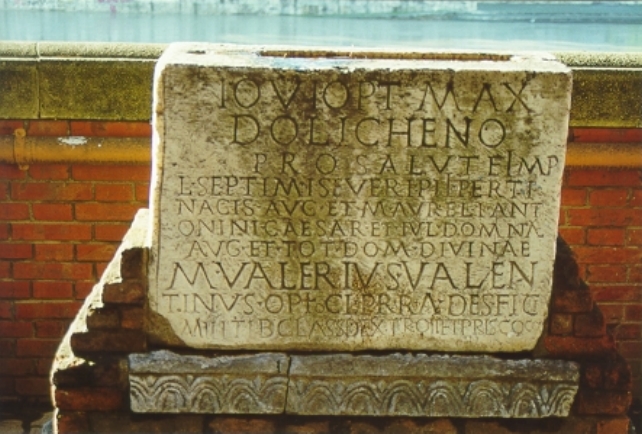 The inscription on the cippus is dedicated to Jove Dolichenus and is located at the inlet of First Aid of Fatebenefratelli hospital.

This is the epigraph text, dated between 193 and 198 A.D.:

IOVI OPT.MAX DOLICHENO PRO SALUTE IMP. L. SEPTIMI SEVERI PIIPERTI-NACIS AUG. ET M. AURELI ANT-ONINI CAESAR ET IUL. DOMNAE AUG. ET TOT. DOM. DIVINAE M. VALERIUS VALEN-TINUS OPTOCL. PR. RA. DES. FECI MILITIB. CLASS. DEXTRO II ET PRISCO COS.
[To Jove Excellent Maximum Dolichenus for the health of emperor L. Settimio Severo Pio determined Augusto and M. Aurelio Antonino Cesare and Giulia Domna Augusta and of all the Holy House, M. Valerio Valentino centurion assistant of the Pretorian Fleet of Ravenna made with the fleet soldiers during the second consulate of Destro and Prisco]

The cippus has been restored on July 2002.